Meet Our Donors
We thank all our planned-gift donors for their generous support. Here are some of their stories.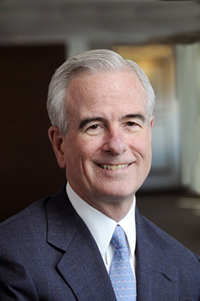 Bill Paternotte
Bill Paternotte and his wife Nan have been members of the Walters since 1977.
They began giving their time and expertise to the museum in 1994 as co-chairs of The William T. Walters Association, supporting the Annual Giving campaign. Bill joined the Board of Trustees in 1996 and served as co-chair for Individual Giving in the Walters 2000 Capital Campaign. When speaking to him about the success of that effort, Bill responded modestly, "I led with my energy and the gifts have followed." He served as Board President from 2003 to 2006, and looks to the Walters' initiative, together with the Baltimore Museum of Art, to remove general admission fees as a proud moment of his tenure.
Bill is so vested in the future and success of the Walters that he served on the search committee to identify and recruit Julia Marciari-Alexander as the next Executive Director of the museum. His commitment is reinforced by his recent decision to leave the Walters Art Museum in his will.
Bill explains, "I think of a bequest as a relatively painless way financially, to leave money to the Walters. It also ensures that Nan's and my support will continue into the future."
Choosing a planned gift is a very personal decision that can have a positive financial impact on the museum without causing a financial burden to the donor. Now that the limits on gifts and estate taxes are more certain, there is an opportunity to review and update your estate plan. Including the museum in your planning will allow your current support to continue as part of your legacy.
For Bill and Nan, the decision to make a planned gift to the Walters was easy. "I've always been impressed with the dedicated group of people who work here as staff and volunteers. I enjoy connecting with people. Getting involved provides a sense of teamwork and commitment, and giving is an integral part of that involvement."
If you are interested in putting the Walters in your will, or if you have questions about gift planning, please call Ashley Mancinelli, J.D., Manager of Gift Planning and Major Gifts at (410) 547-9000, ext. 387 or at amancinelli@thewalters.org.